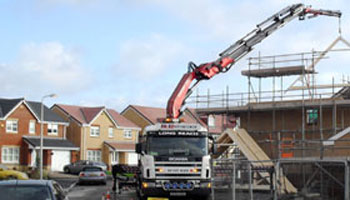 Finishing on time is a must for any Construction Company, so choosing the right HIAB and Telehandler Company for the job is vital to the success of the project. RE Plant have been providing HIAB services and Telehandlers to major Construction companies around the UK, providing a prompt service and reliable machines for over thirty seven years. If you are interested in hiring a HIAB or Telehandler contact us today.
Hold All Necessary Certifications:-
RE Plant hold all necessary certifications to carry out all construction related jobs, you are welcome to email or ring us if you would like a copy of all Company certificates.
Can Assist In Many Of Your Sectors, For Example:-
Rail
Highway Maintenance
Civil Engineering
Defence
Education
Health
Contract Lifting

Get professional guidance.
RE Plant Hire driver takes full control of the lift.
Paperwork and Risk Assessments are also produced by RE Plant staff.
Almost no work has to be done on your part, RE Plant take care of everything.

Steel Beams Transport & Installation

With the options of transporting your Steel Beams to site and installing them onto numerous floors of your building project up to 30 metres away from the lifting point, RE Plant Hire is your first choice in South Wales.

Able to assist with the installation of Steel Beams for hospital, rail, defence or even regeneration projects.
Crane extends up to 10 times, more than 100ft.
Prompt and reliable service, so your builds keep on track.

Concrete Stairs Transport and Installation

Able to not only transport stairs to site, but also install them, using one of our specialist HIAB vehicles.
Use certified lifting chains, able to lift well in excess of 13 ton

Statues

Can position your Statues in tight spaces where a normal crane can't get to.
Use certified endless straps to prevent any damage to Statue when lifting.
Experienced in installing statues in universities, town squares and business parks

Septic Tank Transport and Installation

A vast amount of experience has allowed RE Plant to specialise in lifting numerous types of objects, Septic Tanks being one of them. If you need the job to be done on time and to the highest standard possible, 'Request A Quote' from RE Plant today.

Capable of installing fibreglass Septic Tanks with ease.
RE Plant able to carry Septic Tank across site prior to installation if required.
A site visit can be offered if unsure of lift process.
Hire starts when HIAB vehicle leaves RE Plant Depot and ends when HAIB vehicle returns to Depot.
Minimum of four hours hire for each job.

Crane for Glass Lifting and Installation

Lorries with HIAB cranes that are able to reach up to 116ft are more than capable of lifting and installing heavy glass windows onto large houses or apartment blocks. All our HIAB vehicles are highly versatile in that they come in a wide range of sizes and lifting capacities so be it a heavy / awkward glass window or site access issues RE Plant can still provide a solution.

Crane able to lift glass up to 116ft.
Lift and install glass of 350kg at 100ft.
Compact lorries allow access to tight areas on site.
Remote control crane allows the operator to work alongside glass installers.
Able to lift glass and transport to site prior to installation
Hire starts when vehicle leaves RE Plant Depot and ends when vehicle returns to Depot.
Minimum of four hours hire for each job.